Venetian couriers
Miniated page of the Mariegola of Venetian couriers
Along the ways of mercantile traffic, Venetian couriers, who were private couriers, used to travel all over Europe of past centuries to deliver mail. The profession of the courier, made necessary by the vital need to exchange news of mercantile activities, was born previously to the year 1000 in Venice, or better at Rialto, in the so-called area "sestiere" which was the central point of Venetian economic life for many centuries. Among the couriers, who practiced this profession, some of them came from Bergamo, in particular from Val Brembana and some of them belonged to the Tasso family, carrying to Venice their experience already acquired in the past.
One of the most important dates for Venetian couriers, was January 6, 1305 (actually January 6, 1306 according to our calendar, because Venetian calendar began the year on 1 March), when the Great Council decreed that all couriers operating in Venice were subject to the control of the Supervisors of Comun, the Judiciary authority responsible for rates. This date is considered important for the couriers because for the first time the State officially recognized their activity and granted them significant advantages, such as the private exercise of their profession. So the Company of the couriers of the Serenissima was born and its activity was regulated by a statute and clear rules that formed the Mariegola, a book containing all the decisions made by the directors of the Company.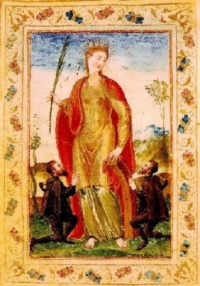 Miniature of Saint Catherine of Alexandria, patroness of postal couriers, on the title page of the Mariegola
Couriers ran over all paths of Europe, especially those leading to the markets and fairs where the trading activity was concentrated. Venetian merchants came to these places carrying their goods bought in the East, very sought goods from all European peoples, and trade took place in these markets. Couriers could not lack because it was of utmost importance that economic news regarding prices, goods, merchants, came quickly: the earlier the news arrived, and the better the result of economic exchanges was.
(Adriano Cattani, Director of Tasso Family and Postal History Museum)